Ernies Online Gallery - Page 2
Online Gallery - Page 2
Sunset Rendezvous - Giclee on Canvas
The scene is in Laguna Beach, California, at the corner of Cress Street and Pacific Coast Highway. "The Hotel La Casa del Camino" was built in 1928. This historic hotel has been renovated, and currently is one of the "hottest" night spots in Laguna Beach - with the K'ya Restaurant on the ground floor, and a bar and lounge on the rooftop. Viewing a Pacific sunset from the roof is a must while in Laguna Beach.
The El Ranchito Mexican Restaurant, with its views of the Pacific Ocean and superb Mexican cuisine, is a great place to dine with friends. Also their firepit patio is a favorite among locals and visitors to Laguna Beach.
Framed Canvas Giclee Reproduction 21" x 42" - sold out
Archival Paper Prints framed or unframed available - 21" x 42"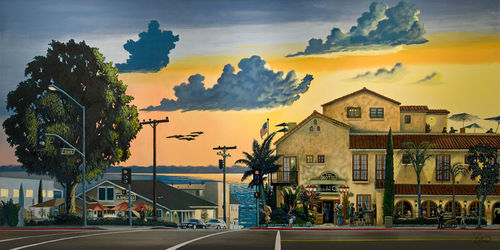 Welcome to Laguna
This painting depicting the statue of Laguna's first official greeter, Eiler Larsen, shows how the spirit and passion for welcoming visitors to Laguna Beach still lives on in the hearts of others.
Millions of people have passed by the Old Pottery Shack Shops at the corner of Brooks and South Pacific Coast Highway through the years and have seen the statue of the greeter. This painting shows the newest greeter, Michael, welcoming a new generation of visitors to Laguna Beach.
Original Framed Oil on canvas - 18 x 24
Matted Prints on Archival paper - 16 x 20